Shape memory bollards : direct embedding
FITTING BY EMBEDDING IN CONCRETE:
Dig out a trench
Check the nature of the soil
Make a foundation block
> Mediocre soil : MA type : 0,5 x 0,5 x 0,5
> Good soil : MA type : 0,4 x 0,4 x 0,4
Embed the bollard as shown in the diagram
If you are drilling a hole to fit the bollard, we advise drilling a hole at least 1.5 times the diameter of the bollard.
WARNING
For bollards with 1 or 2 flange rings, these rings must be sunk into the anchor block as shown in the above diagrams.

Bollard with one flange ring

Bollard with two flange rings

Bollard with reinforcing rod

Features:
This system allows for regular removal
Removable base made of hot-galvanized steel
Product comprising 2 parts
> A base unit to embed with a locking device
> A grip jaw to insert into the base unit
 Locked with an 11 mm triangular key
Available for bollard diameters 76, 80, 90 and 100 mm
Fitting:
Dig out a trench
Place the base unit in the concrete or bedding mixture
Insert the bollard into the grip jaw
Place the assembly in the embedded base then lock with the 11 mm key supplied
If the bollard is missing, fold over the grip jaw and lock with the key.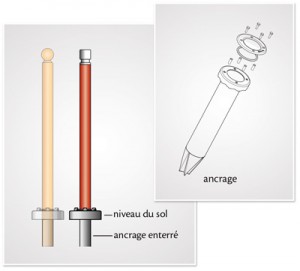 Fit the anchor by using a pneumatic drill or embed it
Slide the seal ring between the clamping plate and the base of the bollard
Insert the bollard and lock it in place with the clamping plate
For your information, footings are also available in diameter 60 mm, dimensions 80×40 mm and 80×80 mm for posts bearing signs, police signs in particular.