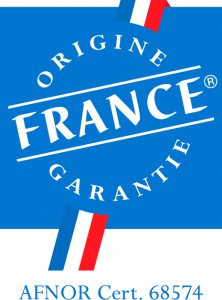 • The only universal quality label certifying production in France
Audited by AFNOR, the company has had the Origine France Garantie quality label since the end of 2015 for its entire range of shape memory bollards. The audit reports revealed that 100% of the production of our bollards took place on national territory.
• What is Origine France Garantie?
This is a quality label awarded by the Pro France association, the only label currently guaranteeing that products are of French origin.
Its principle is simple:
– At least 50% of the unit cost price of the product is acquired in France
– France is the place where the product acquires its essential characteristics
A transparent process: After studying the application for certification and auditing the production sites, an independent approved certification organization (Afnor Certification for LE POTELET quality certification) approves the award of the quality label.

• Why the Origine France Garantie quality label?
The Origine France Garantie quality label assures consumers of the traceability of a product by clearly and objectively indicating its origin.
For more information on Pro France and the Origine France Garantie quality label, go to: